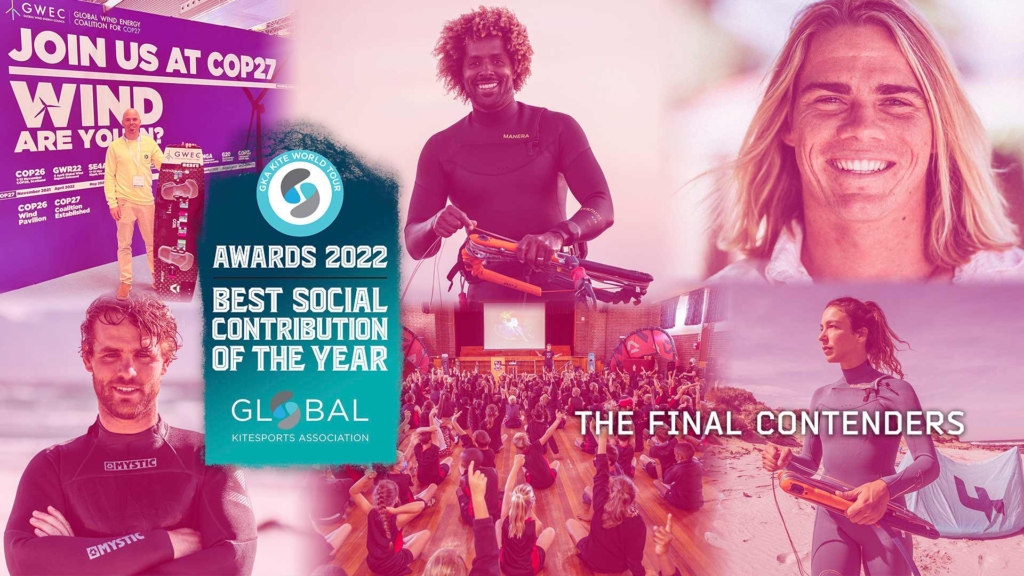 We're excited to be able to announce the following individuals were voted as the leading contenders for the GKA Social Award of the Year by a panel of industry professionals, representatives, brand managers, media creators and journalists.
These individuals have worked in very unique ways to go beyond their roles purely as kiteboarding professionals, to give something back to their communities, environment or the sport itself.
Please read the bio info about the contenders and then scroll to the bottom of this page to cast your vote! (You can only vote once).
VOTING CLOSES 7TH JUNE

WILLOW-RIVER TONKIN
Willow-River Tonkin is a phenomenon in the waves and has built a career around his powerful turns, legendary tube rides and smooth style. Growing up in Mauritius, he has always been connected to the ocean. Just months after learning to kitesurf, Willow was sponsored by Core Kiteboarding and has been sharing his passion for the sport ever since, traveling around the world as an excellent ambassador for the spirit of kitesurfing.
More impressively, however, is Willow's attitude–he has an air of positivity and optimism that influences everyone around him and is almost certainly what secured his position as a GKA Social Award nominee. Just 22 years old, Willow is the youngest nominee for the award but he's practiced altruism from an early age. He has raised thousand of euros for Ekuthuleni, an Early Childhood Development Centre, and he has plans in the works to establish a non-profit. Willow's motto is "The act of giving, continues giving".
Visit Willow's website: willow.surf/
SCROLL DOWN TO VOTE!

GRAHAM HOWES
The creator and mastermind behind Dirty Habits–a lifestyle and content brand that pushes life to the limits–Graham is a professional kiteboarder known for his stunt tricks, mega-loops and relentless riding style. Based in Cape Town, South Africa, Graham is committed to introducing others to the sport that's given him so much. His focus has always been on inspiring and motivating the next generation of kiteboarders and he has served as a mentor for young and talented riders and provided a path for them to become professional kitesurfers.
Recently Graham has opened up about his personal lifelong struggle with ADHD and epilepsy and a 2019 diagnosis of depression. He is passionate about strengthening the community of support for extreme athletes dealing with mental health issues. His current goals are to become a role model and advocate for mental health awareness and has just completed work on a 30-minute documentary on mental health in extreme sports. Graham is also in the process of launching the Dirty Habits Foundation to provide a platform to support athletes and projects that can make a difference and inspire social change. "My goal has always been to inspire people to live their best lives, and to become the person that they are capable of being."
Visit Grahams's website: shop.dirtyhabits.com
SCROLL DOWN TO VOTE!

MITU MONTEIRO
Wave Master World Champion, Mitu Monteiro is a true waterman. Raised by a single mother, living in a small fishing village in Cabo Verde, Mitu grew up by the ocean but had no access to gear and very little money. His passion for kitesurfing developed over years of playing in the waves and discovering different crafts to do so, first with plastic water bottles stuffed in a bag, then with a discarded windsurf board, and finally with a kite. His status as an icon of strapless riding was originally born out of a lack of gear–he wanted to ride at Punta Prea but didn't have a board and so he took his surfboard. That fateful decision led to a decade-long career as a professional athlete and waterman. Mitu is acknowledged as a pioneer of the discipline of strapless kitesurfing but has had an even more incredible impact on the sport through his leadership, and ability to give back.
Today Mitu's primary focus is on giving back to his community by empowering the local kids of Cabo Verde to get on the water. He requires that they maintain a certain level in their academics and pushes his students to maintain good grades. He's also an advocate for the ocean and has recently launched a petition to protect Punta Prea. His influence on the younger generation and drive to protect the environment make him a well-deserved nominee for the GKA Social Award of the Year.
Visit Mitu's website: mitumenteiro.net
SCROLL DOWN TO VOTE!

LEWIS CRATHERN
4x British Kitesurfing champion, Lewis Crathern is an inspiration and legend in the sport. Known for his big air dominance and style, Lewis has competed in 10 straight Red Bull King of the Air events. He is also an 8x Kitesurfing Armada Ambassador and is currently ranked 5th Overall at the Cape Town King of the Air. His mega jump over the Brighton Pier in 2010 was a career-defining moment for Lewis and solidified his status as a major player in extreme kiteboarding.
Perhaps more important than his athletic achievements is Lewis' determination to give back to the sport and impact and inspire others to learn to kiteboard. Through his Wonderful Wind Tour, he visits schools across the UK and engages students in topics related to the wind–from kiteboarding to the environment to staying healthy. Lewis also uses kiteboarding as a powerful tool to raise awareness for climate change and works in partnership with the Global Wind Energy Council to spread awareness and sustainability messaging. Finally, Lewis works as a speaker and commentator and lends his voice to inspire others to better themselves. Through interactive talks and seminars, he inspires his audiences to think optimistically and unlock their potential.
Visit Lewis' website: lewiscrathern.com
SCROLL DOWN TO VOTE!
PLEASE VOTE HERE!
(You may only vote once)
To vote for the Female Rider of the Year – click here
To vote for the Women's Move of the Year – click here
To vote for the Male Rider of the Year – click here
To vote for the Men's Move of the Year – click here
The post VOTE For the GKA Social Award of the Year 2022 appeared first on GKA Kite World Tour.